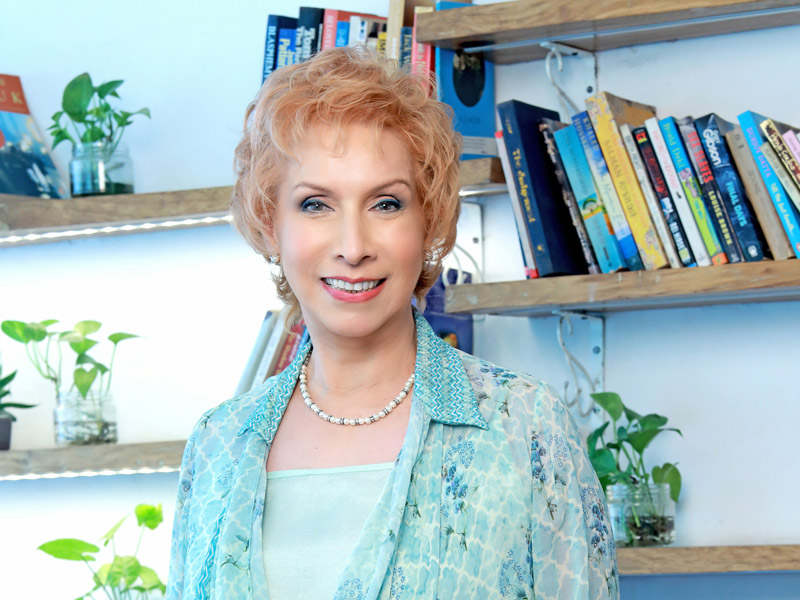 An industry veteran with over 35 years of experience, Dr. Blossom Kochhar is a widely respected name in the field of holistic beauty.

IA clear visionary, way ahead of her time, she is the pioneer of Aromatherapy in India and has a legacy of promoting organic living through her indigenous products. She is the Chairperson of Blossom Kochhar Group of Companies and her name is synonymous with successful brands – Blossom Kochhar Aroma Magic and Blossom Kochhar College of Creative Arts & Design (BKCCAD).

She holds high-ranking positions in several organisations as President, Organization Mondial Coiffure (OMC) – Paris and Intercoiffure Mondial India (ICD) and National Hairdressers and Beauticians Association and Chairperson of Beauty and Wellness Sector Skills- India.
Q: You've been extremely vocal about issue's regarding women. Whether it's your support extended to raise awareness about breast cancer or talk about the stigma around menstruation. How do you believe the narrative around such issues has changed over the past few years?
I believe people are more aware about such things these days. People have started to discuss and address issues regarding women be it breast cancer, menstruation or domestic violence. These topics are not supposed to be neglected anymore. Women are very much a part of the society and it is important that we focus on their issues to create a healthy society.
Q: As the founder of your own, immensely successful group of companies, what from your vantage point, is a setback most women face in their professional forays as compared to men?
I feel women are sometimes unaware of the potential they harbour within themselves. With the right mentoring and encouragement, they are sure to shine as a confident, smart and successful business woman. It is important that we create opportunities for them to showcase or hone their talents.
Q: What is one thing you know and understand now about being a woman in an extremely competitive industry that you wish you knew when you were just starting out?
I have been extremely lucky to have great support from my family and friend. As a woman, we need to understand there is nothing we cannot do. You just have to identify your strength and weakness and make conscious efforts to lead our way forward towards growth.
Q: Your business, all its products and your mission all focus on beauty from a more natural and holistic standpoint. Belonging to a minority that shares a similar vision within the beauty industry, what are your thoughts on the future of therapy driven products?
I think the entire beauty industry is evolving into a nature-driven industry. There is a change in trend where people now believe that healthy lifestyle and wellbeing can bring out the best beauty in you. The consumers are now aware of the things that are natural and beneficial for them. They have started to pick products or cosmetics that are natural and has no nasties in them.
Q: The BKCCAD aims towards giving many the opportunity and access to education, skill development and most importantly, empowerment. Would you like to tell us more about the platform for the women interested?
Yes of course. I have always believed that women should be skilled and empowered to earn a livelihood for themselves. In 1984, I started to skill in hair and beauty through Pivot Point India. Now my academy (BKCCAD) has students from all over the country to get trained under industry experts. Our courses are affiliated to international bodies such as CIDESCO (Beauty, Spa, Aromatherapy, and Make-up), IMA (Makeup) and Pivot Point (Hair). There are also short-term courses for those who are looking for great opportunities within a short span of time.