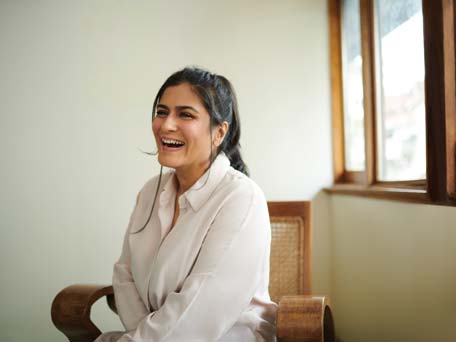 Namrata Soni is a renowned makeup and beauty artist with over 20 years of experience in the industry. From some of the biggest Bollywood celebrities, to leading influencers, brides and more, Namrata is loved and trusted by women of all ages. She is a leading expert in anything from breathtaking red carpet looks, to subtle, every day beauty rituals.

Over the past two decades Namrata has built a personal, strong brand for herself, and today she is known for her talent, knowledge and insights. She is a role model not only to young women aspiring to work in the industry themselves one day, but also to other already established makeup and hair professionals who look up to her.
Q: Kudos on completing 20+ years in the industry commencing the journey by assisting Coleen Khan in 2022 to starting your own academy, you have come a long way, what do you have to say about it ?
I feel I have been very blessed in my journey of make up its been a really long21 years and I have loved being part of this industry it has been inspiring and rewarding with a lot of hard work, long hours, long days and no sleep. Being grateful to all the wonderful women who have been part of my journey, who have supported me throughout.
Q: Today as you see times have changed, now a days people are caked up with make-up most of the time like its second skin, which was not the same 20 years back, what is your viewpoint on the same? Do you think its healthy?
To be honest with you, make up changes with the eras and the times and it's really been very hard to see peoplecaked up so much because you would expect with the times changing for people to understand importanceof healthy skin and taking care of yourself including your body, your mind, your soul will ultimately translate for you on your face. Cakey makeupis not the healthiest option but the most important thing to remember is that at the end of the day, don't sleep with that makeup on. Use the right tools to remove make up becausewhen you sleep at night is when your skin heals and balances itself. Wrong nourishment for your skin at night before you go to sleepwill lead to unhealthy skin in the long run. If you have good skin or decent skin, find a makeup regime that will not make you look cakey. I've always believed that cakey makeupcamouflages that inner beauty thatevery woman has, it's about using the right products in the right places to enhance your features and not about covering them upfor you to look like a different person. So find the person that you love following, get inspiration from, pick up the tips and tricks from that person that you love for yourself, and find yourself as a woman.
Q: What care routine would you like to share with our audience as a post make up routine for a healthy and happy skin?
The best care routine would be if you're wearing makeup on a daily basis, use the makeup microfibre towel which gentlyremoves all the makeup deep from within the pores. No need for rubbing and tugging, the makeup gets lifted off your skin with the microfiber towel. Then double cleanseusing a makeup remover, baby oil or a cleansing milk on your face, massage it in and rinsing it off with the towel oryourskin care face wash. Lastly, put an eye cream, a good moisturizer suiting your skin at night, a lip balm and that's all you need for your skin at night before you sleep. I'm a believer that putting too much on your skin won't suit everybody. So keep it simple and use products that work for your skin and you will see magic happen.
Q: What guidance would you like to give to the budding make-up artist, who look at you as their mentors?
I feel so blessed and thankful that people look up to me. The advice that I would like to give budding makeup artists is that be who you are, find your style, do lots and lots of different courses,understand all the different techniques, all the different styles of makeup that are there and lastly don't feel scared to put yourself out there, have an opinion, but be very focused. One thing I noticed in the industry nowadays is that everybody wants to reach the top very quickly. It doesn't happen that way. You need to put in your time, you need to assist, you need to be someone who your mentors can depend on. You need to be loyal to them. You need to be available so that they can train you and there is nothing like hands-on experience working with your mentors. So if that is an opportunity that you can get in the industry, grab onto it and at least give yourself 1 1/2 to two years of assisting. That's how much time I assisted for, to be able to understand every nuance of the industry, from photo shoots to movies to everything that I could possibly do.
Q: Do you think Cosmoprof India is helping to boost the confidence for Indian beauty industry in the Global market ? / How do you think is Cosmoprof India beneficial for the Indian beauty Industry in the Global market ?
We love Cosmoprof. I am so happy that it has finally come to India. It has opened the doors for the cosmetic and beauty industry in our country. It has got such amazing manufacturers, that people didn't know about into the forefront in our country. It has given us access to international manufacturers and it's been amazing to go and interact with these wonderful people, meet wonderful people in the industry and get to know about the industry in so much of depth. So I am very happy and grateful that Cosmoprof is helping to boost the confidence of the Indian global industry and I am very excited for the coming years