Reena Chhabra joined Nykaa.com in May 2016 as CEO, FSN Brands, the private label arm (Nykaa Beauty featuring Nykaa Cosmetics & Nyka Naturals) of e-commerce platform Nykaa.com.
She has been instrumental in taking Nykaa Beauty to new heights by introducing new product lines and increasing distribution nationwide. Reena is also the force behind launching & leading Kay Beauty, a beauty brand in a joint-venture partnership with actress Katrina Kaif & Nykaa.
In her 20+ year career in the retail industry, Reena has developed a reputation for being a strategist and an astute business planner. Her passion has always been to work with startups and she has been influential in scaling up profitable businesses. Prior to joining Nykaa, she was the COO of Colorbar cosmetics where she grew the cosmetic brand to the top 3rd slot in the colour cosmetics industry. Previously, Reena successfully led Lakme Beauty Services at Unilever, spearheading the Lakme Beauty Salon Business. She has had successful international and national stints with companies like Kaya Skin Clinic, Kodak, Fosters and Eli Lily in a career spanning more than two decades.
Reena holds an MBA Degree from the Faculty of Management Studies, and is a keen cycling and adventure sports enthusiast.
Q: Your journey as a professional in the beauty industry thus far has been spectacular, to say the least. However, was the industry always a part of the plan? Or was it one that you found a niche in over the years?
The beauty Industry was nascent when I joined it. I started off my initial career stint with brands like Kaya Skin Clinic and Lakme Beauty Services at Unilever and realized the immense potential of the industry.
Across the various roles that I played, I also had the good fortune to work with brands that were disruptors in the industry and created a niche for themselves.
I was truly able to do some good work where one built brands, as well as, created new innovations and properties for consumer engagement. Over the years I did find a niche, of being able to bring together completely new brands for the industry.
Q: There has been an exponential rise in beauty tutorials, trends, and tips on social media platforms over the last decade. Product information is now more accessible than ever. How do you think this has affected purchasing trends within the Indian market?
This is what I call the democratization of the beauty industry. Earlier, access to beauty was only for a niche few. However, with the advent of the entertainment industry and rising disposable incomes for women; there came a greater need for understanding beauty.
Social media has precipitated this and given easy access to education on beauty like tips or hacks.
This has allowed consumers to make informed choices, as well as created a greater network of peer-to-peer recommendations for women. In many ways, it has made beauty less intimidating and easier to understand, for instance, it has enabled women to learn to use beauty tools as well as foundations, contouring products and better make-up at home, as opposed to only salons, thus aiding their decision to buy such products. It has made purchase decisions better and more widespread across various categories.
Q: On that note – you've belonged to the space long enough to have seen first-hand how the consumer's wants, as well as the narrative around cosmetics, has evolved. Apart from the obvious, what according to you is the biggest difference between the market then and now?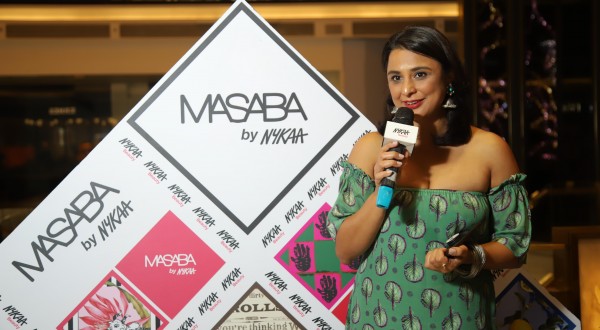 When I began my career, beauty was more of a focus for women when they were getting married and for after marriage occasions. Festivals like Karva Chauth and Diwali were the times when women splurged on beauty and even then, they were conservative in their beauty choices.
Today, women are much more evolved and are ready to push the envelope with beauty.
Social media Influencers, the influx of global beauty trends as well women stepping out more and more are some of the reasons. Today, women want high performance beauty products that last long and have minimum impact on their skin.
They care about ingredients, packaging, and the tonality of the brand. They want to identify with the brand and for it to resonate with them.
The biggest difference in the market is the evolution of the consumer, not just in metro cities but also in Tier 2 cities.
Q: There has been a palpable shift in the definition of Beauty standards in more recent times, with more women opting out of consumption of cosmetics entirely – owing to increasingly unrealistic ideals of beauty. How has the industry kept up with the shift?
Inclusivity, sustainability, and responsibility are now important to all consumers. They look for brands they can identify with and which respect their inherent uniqueness.
At Nykaa Beauty for instance, we have been very particular in launching – diversity of foundations- Skinshield Range.
We tested the shades on multiple Indian skin tones, understanding different undertones & finally decided to launch a range of 15 foundation shades, which range from the lightest to the deepest skin-tones, covering 3 types of undertones: yellow, pink & neutral. We also wanted the formula to be one of a kind, which is not only high performance, but protects and cares for skin.
Even in terms of beauty inspirations, conversations are no longer for a particular demographic but belong to every woman. Coming on to the Matte to Last lipstick, we took inspiration of shade names from each city in India and its cultural heritage. The design and packaging also had the imprint of the cultural heritage of that city. We went ahead and chose real girls to be the part of the campaign through an Instagram contest. Our product launches are not just product launches for our consumers but also developing a realistic connect with the Indian women and celebrating every skin tone, shape, and size. Even our new beauty products are focused on ease and convenience of use, to ensure that every girl meets her match.
Q: Nykaa's campaign 'Beauty in Her Story ', last year, as well as Beauty with Benefits – P.R.I.D.E, puts the power back in the hands of several women. Would you like to share any initiatives practiced at the firms internally that support women in the workplace?
Nykaa celebrated powerful stories of women with their campaign 'Beauty in her story' brought to life with Netflix's films Gunjan Saxena: 'The Kargil Girl', Dolly Kitty Aur Who Chamakte Sitare and series Masaba Masaba. Building on its founding value of empowerment, Nykaa encourages every woman to celebrate her unique identity and push beyond boundaries. In collaboration with Netflix, Nykaa focused on the stories of strong women who have unapologetically followed their dreams.