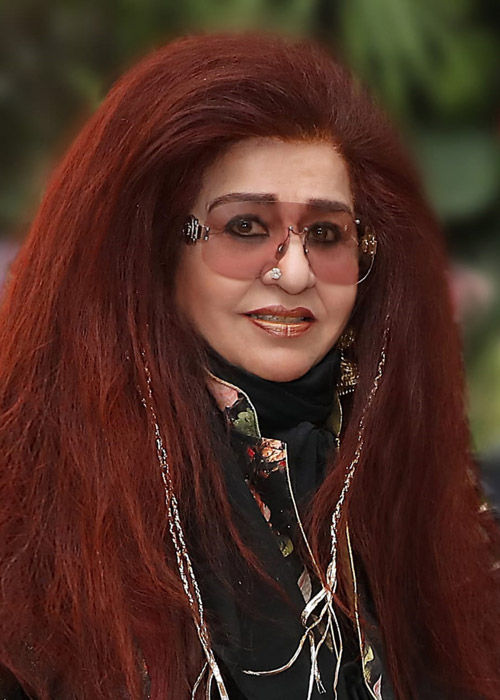 Shahnaz Husain, Founder, Chairperson & Managing Director of the Shahnaz Husain Group, is a pioneer of the Ayurvedic beauty movement. She heads a global network of franchise ventures and 375 formulations.

A Harvard Subject for "Emerging Markets," she received the Padma Shri Award and is the first woman in 104 years to receive the World's Greatest Woman Entrepreneur Award from Success, the U.S. business magazine..

Indeed, Shahnaz Husain is a leading international beauty icon.
Q: You've mentioned your philanthropic work has remained the centre nerve of your entrepreneurial success. Would you like to tell us more about it?
I wanted to make a positive contribution towards empowering the less privileged and the physically challenged. I started my free beauty training courses for the speech, hearing and visually impaired, as well as for acid attack survivors, to make them financially independent and self-reliant. I also wrote a book on beauty, which has been put into Braille.
We have contributed to Government Skill Development projects by training and certifying over 40,000 under-privileged women. We have also distributed free Toolkits. I have also formulated the Chemoline Range for cancer patients, based on Ayurveda, to alleviate the effects of chemotherapy and radiation on the skin and hair. These products are given free of charge to cancer hospitals in India and abroad.
Q: You're best known to pioneer the exact blend of therapeutic herbs with healing science. What inspired you to do so, especially within the beauty industry?
I have pioneered organic beauty care & cure, based on India's ancient herbal healing system of Ayurveda. While training in London, I came across instances of damage caused by chemical ingredients and treatments. My study of Ayurveda convinced me that it could offer the ideal answers to the demands of beauty care. Plant products, their essential oils and other natural substances not only have powerful healing properties, but also benefit beauty care. So, I devised salon treatments and also formulated products for general beauty care, as well as for specific beauty problems. Thus, over the last five decades we have become internationally acclaimed for Ayurvedic beauty care and cures.
Q: Your vision has put India on the beauty map of the world. As a woman, and as part of an ever-evolving industry, what challenges have you faced during your journey?
I always believed that India had much to offer the rest of the world, by way of her herbal heritage. So, my mission was to put India on the world beauty map. India was not even represented at that time, but I attended International Beauty Congresses on my own steam and held press conferences, speaking on Ayurveda and trying to popularize Ayurvedic beauty care.
Entering the international market was the biggest challenge. I participated in the Festival of India in London in 1982 and was given a counter in the Perfumery Section at Selfridges. With international cosmetic empires pumping billions of dollars into a hysterically mad cosmetic industry, selling youth & dreams in bottled jars… there I stood up and sold India's ancient civilization in a jar. In the face of fierce competition, it was not easy. To everyone's surprise, the entire consignment sold out in 3 days, breaking the store's existing cosmetic sales records. It resulted in a permanent counter at the London store. From there, we moved on to Harrods in London, Galeries Lafayette in Paris, the Seibu chain in Japan, La Rinascente in Milan and El Corte Inglis in Spain. The Shahnaz Husain Group has experienced the increasing demand for Indian Ayurvedic products across the globe.
Q: Your famously known philosophy in life is "Do your best and leave the rest to the Will of God". How has this attributed to your resounding success?
Yes, it has definitely given me an inner strength. This total surrender to the Will of God helps me to stay grounded, no matter how high I may soar in the pursuit of success. This kind of spirituality has nothing to do with success, name or fame. It goes far beyond that. It is an inner consciousness, an inner strength. Happiness and sadness, success and failure are different aspects of life. They are transient, ever-changing. What remains constant is inner spiritual strength. Obstacles and hurdles are bound to come up in life, but I have been able to meet them as challenges and opportunities, with my desire to excel, my relentless determination to succeed, an iron will, steel grit and sheer hard work. I believe that one should never stop trying. If you never stop trying, you cannot fail. I believe that nothing is impossible. You can be what you will yourself to be. You can make your own destiny.
Q: While your products, mission and branding speak for themselves, your Franchise strategy has catalyzed your company to the household name it is today. Would you like to tell us more about your insights with regards to your franchises?
Early in my career, I started encouraging ordinary women to open salons in their own homes in a small way, like I had done. This way, the woman could also be at home to care for the home and children. I trained them in beauty and in my specialized treatments and then gave them the right to start their own Shahnaz Herbal salons. This was the beginning of my franchise system. Starting a branded salon gave them a head start. The expense of publicity and manufacture of products was borne by me. The franchisee could also earn a percentage in the sale of products. Thus, franchising became the core of the success of our brand. We have extended our salons and other ventures in India and abroad through our unique franchise system. By taking up our franchise, the franchisee gets the benefit of an established brand name and goodwill generated by our brand. The franchisee also has the advantage of a successful business model, with proven success rate and efficacy. The Shahnaz Husain brand name has already established unquestioned and unwavering brand loyalty. In fact, no other brand has been able to keep the trust and faith of the consumer the way the Shahnaz Husain brand has. The franchisee enjoys the goodwill that has been built up internationally over five decades of excellence in the beauty field, which translates into guaranteed business success. Our franchise system has helped us to establish a global network of franchise salons, retail outlets, beauty training academies, as well as distributors for our ranges of over 380 Ayurvedic products for beauty and health care.
Q: You are a Subject at Harvard Business School. Please share your experience.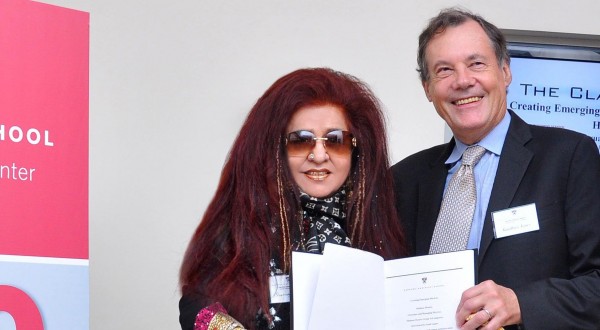 I was invited to speak at Harvard Business School on how I established an international brand without commercial advertising.
I became a Case Study at Harvard on Brand Creation.
Now I am a Subject at Harvard Business School and part of the curriculum for "Emerging Markets," in recognition of the international market created by me for Ayurvedic beauty care.
(Photo: Shahnaz Husain with Harvard professor Geoffrey Jones)
Q: Tell us about some of your prestigious Awards. Which one is your favourite?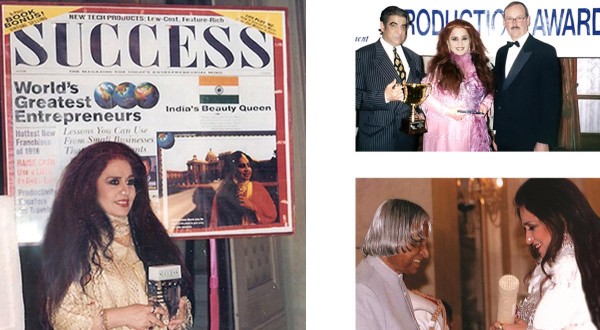 II have been honoured with several international awards, but the Award that is close to my heart is the "World's Greatest Woman Entrepreneur Award" from Success, the U.S. based Business Magazine, when I became the first woman in the World in 104 years to receive the Award. Apart from the Padma Shri Award, I have also received two Awards in the British parliament for "Pioneering Ayurveda Worldwide" and "Ayurveda Excellence." I also received the Kotler Excellence Award from World Marketing Summit and the New York based IWEC Foundation Award for Global Woman Entrepreneur.
(Photos: on the left Shahnaz Husain receiving the World's Greatest Woman Entrepreneur Award; Top right: award ceremony of Quality Excellence Award. Bottom right: Shahnaz Husain receives the Padma Shri Award from President of India Dr APJ Abdul Kalam)
Q: What is your opinion about Artificial Intelligence?
Artificial Intelligence is ideal for us, as our treatments are customized and prescribed. We can prepare a data base and make an online program, taking individual details into account, like country, climate, skin tone and texture, allergies, blood picture, past and current treatments, etc. The customer fills an online form, finds a personal skin or hair profile and can buy a personalized product online. In a world dominated by Artificial Intelligence, Ayurvedic Inheritance is India's gift to the world.
Q: Are there any new trends in manufacture of beauty products? Have you launched any new products post Covid-19?
Actually, beauty brands across the globe have responded quite positively by predicting future demand for products and have started manufacture of hand sanitizers, hand washes and related products. We have launched a new Germ Free series of herbal products, from natural germicidal hand sanitizers and hand washes, to hand creams, face wash, body wash, Chyawanprash and so on. Consumers are going for products that are reputed to be organic and hygienic.
Q: Is there any growth in e-commerce and online sales of cosmetic products?
This period of Covid-19 is seeing a surge in growth in e-commerce and the online beauty business, as compared to brick and mortal retail shops. Globally, online sales, post Covid, are said to be twice as much as the pre-Covid sales. Experts feel that there should be an increase of 20% to 30% e-commerce sales. Actually, it is becoming a digital world. In fact, one can even find one's skin profile online and select products accordingly. This actually suits a business like ours, which is based on customized beauty care.
In fact, we managed to keep in touch with customers through content marketing on our website, on social media and our online regular columns.
Q: What is your vision for the future?
My mission has always been to promote the Indian herbal heritage and Ayurvedic beauty care worldwide. I have done so with a crusader's zeal. I succeeded in putting India on the world beauty map, with the Indian flag flying high in the cosmetic capitals of the world. Now my vision is to see that India leads the international cosmetic industry in Ayurvedic beauty care within the next decade. All my efforts will be towards making this vision a reality.